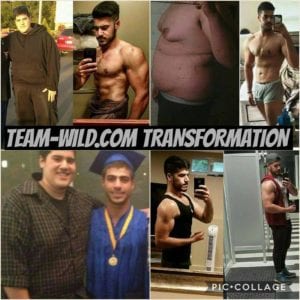 From our Bodybuilding Transformations Facebook Page, Don Sadet ~ Well I haven't posted here in over a year but I figured I'd add to why I personally trust my entire fitness life in TEAM WILD's hands.
Let's scroll back my life to the beginning to a new end.
I was 21 at the time and I was a bit over 360lbs / 163kg's and I was quite the unhappy man. People will tell me "oh you're 6'2 / 1,88m, you carry it well, don't worry about the weight. Yeah fuck that.
There's no easy way to accept what you've done to yourself and the only true adult thing I had left was to admit that I was killing myself and that change was necessary. I'd rather give up eating and drinking anything I wanted then to be carried away in 2 body bags because 1 wouldn't have fit around me.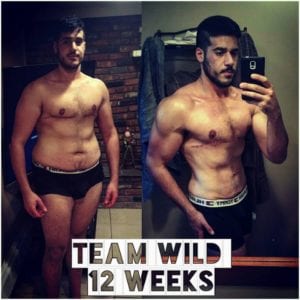 So on March 1st 2014 I decided it was in my best interest to join the nearest gym and just figure it out from there. I joined that night and ever since I have never looked back.
All on my own with NO prior knowledge on fitness I started eating healthier (I cut out all fast foods, all soda, all SHITE snacks and garbage fatty foods, I cut out all alcohol and all fried foods). I started working out 5 x a week and I would make sure of it. Didn't give a fuck what time of day I was going to work out if it wasn't a rest day.
12 months alter its march 2015 and I've finally reached a plateau. I was 200lbs and I didn't know what to do. I was SO tired of dieting.
I really just wanted to put on some weight again so I tried just adding MORE of the healthy food on my own. Although I had zero idea how to bulk so I ended up putting on way more fat than I wanted and that's when I contacted TEAM WILD.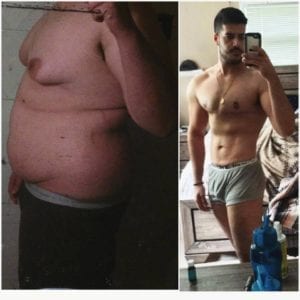 I've been with TEAM WILD since march 2015.
They have literally taken me to the next level. A level i never thought I'd see with my own body. I will never tell you their methods are the BEST methods out there but I will always tell you that their methods are the right ones. The trick to this is that there is no 1 right answer but there are DEFINITELY wrong answers.
TEAM WILD doesn't give you wrong answers. They give you the truth served on a cold steel platter. Follow their directions and you'll always see the exact results you want. Stray from the directions and you'll stray from the expected results.
With Matt Wild help I have been able to go from 230lbs -> 190lbs in June 2016 right before my engagement so that I would look lean as fuck for the pictures.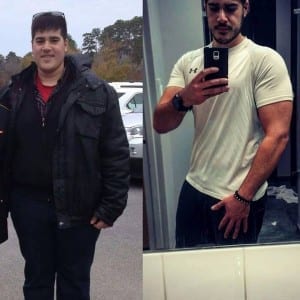 7 months later I am currently back at 220lbs and never felt more proud of my bulk and how much mass I'm putting on.
I love my coaches like my own family and it's more than just changing your body but changing your mind, your confidence, your entire outlook on like.
You want to worry about how much money you'll spend a week for coaching (mind you its less that 25 a week) when the shit they give you is PRICELESS.
Who the fuck can put a price tag on happiness? Especially when the price they offer is less than half of the other guys.
Such a beautiful team and power Duo. They're the reason I am where I am today and they are going to be the reason I'm going to be where I WANT to be.
Sure I could have done it myself but who knows how long of trial and error before I figure it out.
I cant thank them enough.
Can you tell when team wild started with me?
PIC PROGRESS from left to right 360lbs / 200lbs / 236lbs / 192lbs / 220lbs