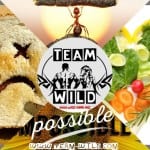 To help you make your IMPOSSIBLE dreams, POSSIBLE – we are offering you 50%OFF for our world renowned TEAM WILD Plans for 2 days only.
YOUR TEAM WILD Plan will include:
– your food regime
– supplementation recommendation
– weight training & cardio schedule
For just £29.99.
To purchase, simply make a PayPal payment to yoandmatt@gmail.com (friends & family option to avoid further charges).
Contact us at yoandmatt@gmail.com to inform us of your purchase & preferred email where we can forward our questionnaire.
This offer excludes TEAM WILD coaching.
We look forward to transforming your body & your life.
See xe.com for conversion rates.