Quick Stats
Age: 29
Height: 5.7 / 173.cm
Weight: currently 123lbs / 55kg , competition weight 115lbs / 52kg
How did you get started with fitness & bodybuilding? What were the defining moments that have guided you towards the fitness & bodybuilding lifestyle?
I have always been into sports, football, basketball, hockey and loved cross country. Once I left college and started working, exercising just stopped.
After 7 years as a Prison Custody Officer I decided to change jobs so that I could have more of a social life and started boxing. This I loved. A new gym also opened up from where I lived which mainly consisted of weights.
I remember trying to squat and was very bad at it. This was when I met Dean – ex PT instructor in the military. He must have felt sorry for me as he decided to train with me and he taught me most things in the gym.
I loved it! I fell in love with it. Lifting weights I found very orgasmic at times… Weird but thats how it feels. haha
I then had a friend who was with TEAM WILD and at this point I wanted to do my first bodybuilding show, but my nutrition is where I usually go wrong, so I signed up with them and it has been the best thing I have ever done.
Where does your motivation and inspiration stem from? What keeps you going to push harder?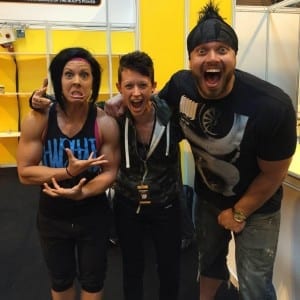 Hmm my motivation… Well my idol is DLB and watch many of her videos, but I think if you want something bad enough your mind set is simply on it; motivated and nothing will stop you till you get what you want. Yes, you have down days, I have had many, but sometimes you need to just ride through the emotions accept it, embrace it, and move on from it.
What workout routine has worked best for you?
I usually train 5 days a week depending on how I feel. I keep my training fun if I can because I do get bored easily. So I like hitting high reps less rest, one muscle group till I sometimes may feel sick. lol
What is your favourite muscle group to train?
Back!! I love training back.
What is your approach to nutrition?
Well I had 22 weeks of a strict diet regime that TEAM WILD provided for me, I had days of cheats but my focus was on the end result so I found it easy sometimes to eat clean as I enjoyed most of the food. Except egg whites. I hate it and still sometimes get asked if I can eat it. haha
What is your supplementation like?
Pre BCAA
Intra. Water
Post whey protein, 30min later Gaspsri Glycofuse
What is your cardio routine like? Do you prefer to use HIIT or SSCV?

SSCV on the stair master, trying to work on those glutes 🙂
What are your future bodybuilding / fitness goals?
I achieved my goal this year, in the trained figure category placing 2nd and invited to the NABBA Novice championships. However, I am in two minds to do this.
I feel I want to try a different sport for the rest of this year and give StrongWoman a go. I think I will be more motivated, stronger and look even better to enter a show next year for bodybuilding when my heart is in it, but who knows.
What advice and tips would you give to new beginners as well as well-established competitors?
Dream big and go for it, achieve the impossible. If you want something bad enough you will already have the right mindset for it.
Your body will sometimes say "no more" but I firmly believe its mostly in the mind that gets you through it. Stay consistent and be patient and the results will come!
Thank you!