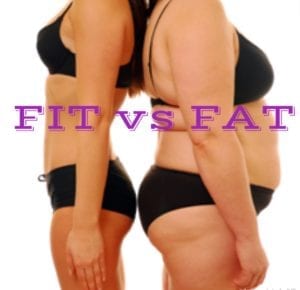 Are you currently getting fit or getting fat?
See… When it come to those who carry extra weight, are overweight or obese, losing weight is a matter of life and death and can reduce the risk of some potentially serious health problems.
Most people who need to lose weight can get health benefits from losing weight – IF they keep it off.
And as you know by now exercise is NOT the key to weight loss – however an area most tend to overdo, emphasize or focus upon as means to losing weight/leaning out.
However when done right exercise is really good for you. Like, REALLY good for you.
Most have difficulty with sticking to a healthy nutrition/diet long term and find struggles in the relationship with food.
Health problems linked to being overweight are numerous:
high blood pressure

heart disease

stroke

type 2 diabetes

some types of cancer

osteoarthritis

back pain, etc.

BENEFITS OF WEIGHT/FAT LOSS are many, but to mention but a few:

Better Sleep
Better Hormonal Balance
Better Mood
Less Joint Pain
Clearer, Brighter Skin
Stress Relief
More Money
More Friends
Fewer Colds
Improved Memory
Better Wardrobe
You'll Actually Want to Pass on the Junk Food
You'll Become a Better Cook
You'll Become More Adventurous
Food Will Taste Better
Better Check Ups
Less Prescription Medicines
You'll Be More Organized
You'll Respect Yourself and Others More
Easier Commute
Not-as-Horrible Allergies
You'll Live Longer
Improved sex life
So? What do you think? What other pros and cons would you add to the list?