Hello there,
Hope you are well!
Matt & I here at team-wild.com wanted to send you a quick message regarding our Flash Sale and Mega Deals you can either have yourself, your colleagues/boss, friends, family and loved ones.
With TEAM WILD you can guarantee you will find a diet that works for life and not just one that works a few weeks.  Additionally, at this massive discount you can buy now and start later, for example as your New Year Resolution. We also have a referral scheme, so for everyone you refer to us and sign up we will reward you with cash or free coaching.
The ultimate benefits you will experience from working with TEAM WILD aim to improve your health, love life, security, self-regard, community and peer recognition, sex life and fulfilment, beauty/desirability, personal attractiveness, and your professional prospects, to mention but a few.
Because when you look good, and feel good, the world is truly your oyster.
With TEAM WILD you can achieve:
get jaw-dropping results
a narrow waist
remove that excess fat, develop a lean chiselled physique everybody wants
build confidence
feel sexier with contoured muscles
have shirt hang better
get bigger arms
better legs and bum
washboard 6 pack abs
look better naked
have more confidence and energy at work and at home
and absolutely nothing that jiggles when you walk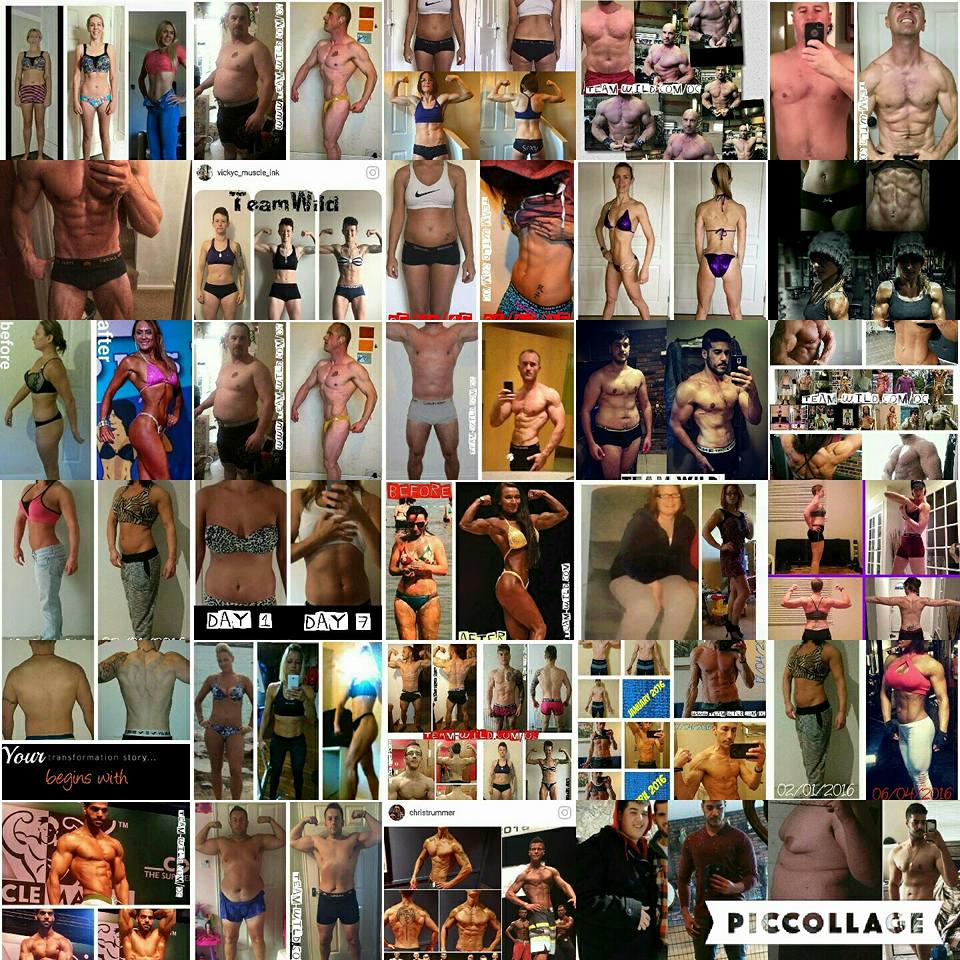 8 WEEKS ONLINE COACHING FOR £129.99 / $299.99
12 WEEKS ONLINE COACHING FOR £199.99 / $249.99 + FREE AMINOS OR PRE WORKOUT!
16 WEEKS ONLINE COACHING FOR £249.99 / $309.99 + FREE AMINOS/PREWORKOUT/WHEY/FAT BURNER! ***
You will receive:
-Frank, no bull s**t advice, if you need to lose fat before we bulk you etc we will tell you.
-Tailored diet plan + adjustments (bulking or cutting). No stress, no guess work. We've done all the research for you, so all you have to do … is eat. And this is no cookie-cutter starvation diet. You have to feed your body right if you want to burn fat and build lean muscle.
-Tailored and adjusted often workout plan + adjustments including cardio schedule.
-Tailored supplement plan + adjustments.
-WEEKLY check-ins with SPECIFIC criteria (you must follow this, not optional) to help us help you into the best shape of your life!
-Unlimited email questions relating to getting in shape (please note; we are here to coach, not chat OR act as a life coach!).
-Changes to all above as you progress.
To join TEAM WILD, simply send a PayPal friends and family payment to yoandmatt@gmail.com and let us know your email address for our questionnaire to be sent to you!
We look forward to bringing you in the best shape of your life! Join us today for all your nutritional/body composition, weight loss, muscle building, fitness & bodybuilding needs.
___
Coaching: team-wild.com/oc
Supplementation: rpgsn.com
YouTube: youtube.com/teamwildtvc
Facebook: facebook.com/teamwildtvc
Instagram: instagram.com/teamwildtv
Email: yoandmatt@gmail.com
#teamwild #RPGSN #pca #wawan #bodypower #ibfa #npc #nabba #wbff #nac #ifbb #ukbff #fitness #bodybuilding #bodybuilder #physique #eatclean #mrolympia #arnold #lifestyle #overrideyourlimits #fitfam #nff #girlswholift #competitionprep #girlswithmuscle #cutting #abs #fitchicks #gowild #wild #wildfitness #getfit #yostrong